Peter Svensson
(the Cardigans)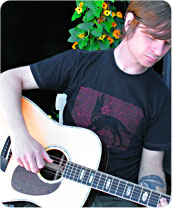 The baritone guitar David build for me is a true inspiration!!!
I opened the guitar case and had three new songs coming up. The guitar is top of the line! And the fact that it looks amazing doesn´t makes it worse!
/Peter Svensson
Peter plays: Sundberg Dreadnought Baritone.